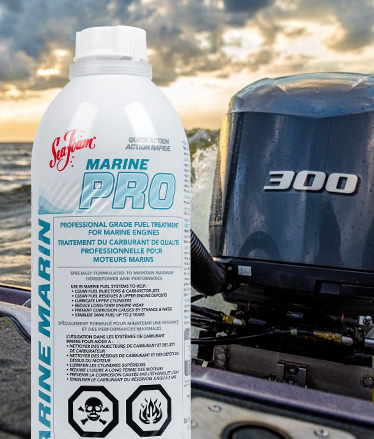 Benefits
Cleans and lubricates entire fuel system

Reduces long-term engine wear

Helps protect against corrosion caused by ethanol & water

Stabilizes tank fuel up to 2 years
Directions
For regular fuel system maintenance, add 5mL per liter of gasoline. 1 can treats up to 95 liters.

For cleaning, add 15mL or more per liter to a low or partial tank – the more you add to fuel, the better it cleans!

For professional cleaning machines, use 50/50 mixed with gas.

For priming marine fuel filters, use 100% Marine PRO.

For 2-stroke pre-mix, add 15mL per liter.

For stabilizing fuel, add 10mL per liter.
Summary
Add Marine PRO to every tank of fuel to help your marine engine start faster, run smoother, and last longer. It works through fuel injectors and carburetors to safely remove harmful engine residues and deposits from fuel passageways, intake valves, pistons and chamber areas.
Marine PRO is safe and effective in all 2- and 4-stroke gasoline marine engines, inboard and outboard. Marine PRO only contains petroleum-based cleaning & lubricating ingredients. It does NOT contain harsh chemicals or abrasive detergents that could harm your engine. Marine PRO does not contain alcohol.
Watch The How 2 Video
NEW! SEA FOAM MARINE PRO – COMPLETE MARINE FUEL SYSTEM TREATMENT
Help your marine engine run smoother and last longer with Sea Foam Marine Pro – just pour it in! Add to every tank to clean fuel injectors and carburetor passageways, cleans and lubricates critical upper engine areas, stabilizes fuel, and helps clean and protect your entire marine fuel system.