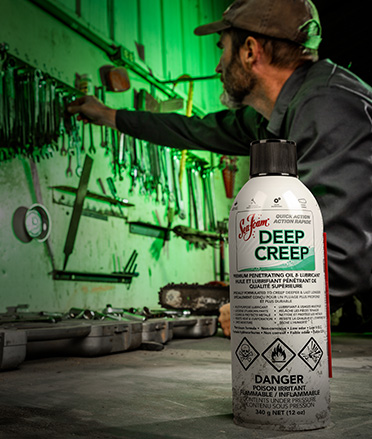 Use Deep Creep To:
Free stubborn parts from rust & corrosion
Dissolve & loosen tough buildup & grime
Oil bushings, chains, gears, hinges, rollers, & slides
Lube & protect metal parts, guns, & tools
Fog & coat cylinder cavities for storage
Clean, lubricate & protect metals, air tools, guns & more
Tip: Deep Creep can be used with a heat torch for deeper metal penetration
Using Deep Creep For Engine Storage
Benefits
Protects metal surfaces from moisture & corrosion
Cleans hard carbon deposits from chambers, pistons & rings during the storage period
Directions
Remove spark plugs and spray each cylinder cavity.
Before re-inserting spark plugs, crank engine to rotate pistons (key turn, or rope pull).
Summary
Deep Creep is a premium-grade shop lubricant and penetrant that creeps deeper, works harder, and lasts longer. Quickly cuts through rust and buildup of all kinds to loosen, lubricate, and protect parts and mechanisms. Made from powerful petroleum ingredients, yet uniquely gentle on polymers and resins!
Deep Creep works fast to break metal surface tension while resisting evaporation and extreme heat. Compare Deep Creep to your favorite shop lubricant and discover how it creeps deeper, works harder, and lasts longer!
Watch The How 2 Video
DEEP CREEP PENETRATING OIL & LUBRICANT – CREEPS DEEPER & LASTS LONGER!
Try Deep Creep the next time you need a penetrating oil and lubricant for shop or home use. Not only will it creep deeper and last longer, it does NOT stink and it is NOT caustic or corrosive. And Deep Creep is made from 100% petroleum ingredients, just like Sea Foam Motor Treatment!